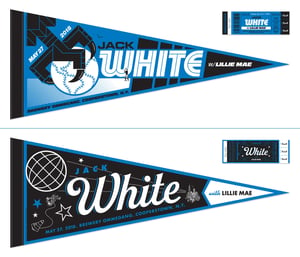 $

130.00
Jack White at Brewery Ommegang, Cooperstown, New York 5/27/18
Poster design by Alan Hynes, printed by D&L Screenprinting.
POSTER STYLE A + POSTER STYLE B MATCHED NUMBERS
Triangle pennant shaped paper posters w/ tickets
13" x 34" (approx) screenprinted
Edition of 240 each, signed and numbered*
Purchaser will receive (1) style A poster with ticket and (1) style B poster with ticket. All numbers will match.
SHIPPING LIMIT OF 2 POSTERS PER TUBE. An order of 3 posters or more will require an extra shipping charge.